April's Black History Moments
*-not accurate date
April 1.
1949: "Happy Pappy", the first black variety show series with an all-black case is televised on WENR-TV in Chicago.
1950: Death of Dr. Charles Drew, the "Father of the Blood Bank"


1984: Singer, Marvin Gaye is murdered by his father
1899: North Carolina Mutual opened doors for business.

---

April 2
1796: L'Ovuerture lead French forces to St. Domingo.


1997: Controversy surrounds debate to teach Ebonics (so-called Black English) in California's school.

---

April 3.
1950: Death of Dr. Carter G. Woodson, Father of Black History"

---

April 4
1899: Birth of Duke Ellington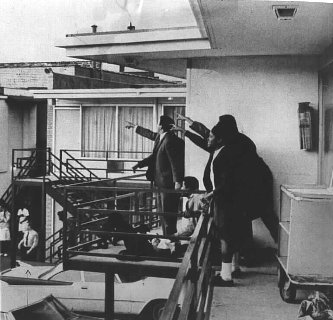 1968: Assassination of Martin Luther King, Jr.
1993: 2 Mississippi Black churches are burned down by 3 white teens yelling racist remarks.
April 5.

---

1856: Birth of Booker T. Washington, founder of Tuskegee Institute

---

April 6.
1909: Matthew Henson becomes the first man to reach the North Pole.


1947: Jackie Robinson's first game with Brooklyn Dodgers

---

April 7.
1942: Navy Secretary Frank Knox announced Black volunteers' acceptance for general service in the Navy.
1917: Billie Holiday, legendary Blues singer born.
1975: Frank Robinson named manager for the Cleveland Indians.
2001: Unarmed Black teen, Timothy Thomas, shot by Cinncinati which sparked a riot a day later.

---

April 8.
1974: Hank Aaron breaks Babe Ruth's major league record with 715 home runs.


2001: Tiger Woods wins Master's Golf Tournament for fourth time

---

April 9.
1866: Congress overrode presidential veto of Civil Rights Bill

---

April 10
10. 1968: Civil Rights Bill passed


1833: Ira Aldridge acclaimed in London as Othello

---

April 11
1881: Spelman College founded
1899: Percy L Julian, chemist whose research helped create drugs for treatment of arthritis, born
1947: Jackie Robinson signs a professional baseball contract and becomes the first Black player in sports

---

April 12
1861: Confederates attacked Fort Sumter which sparked the Civil War.
1787: Free African Society founded.
1983: Harold Washington elected Mayor of Chicago.

---

April 13
1946: Singer, Al Green was born.
1997: Tiger Woods becomes the youngest and first man of color to win Master Golf Tournament


2000: An official Hip Hop Hall of Fame was announced.

---

April 14
1775: Anti-Slavery Society organized in Philadelphia (First abolitionist group)
1940: "Carry Me Back to Old Virginny," is adopted as an official state song. Making composer & minstrel entertainer, James Bland (1854-1911) the first Black to compose a song to become an official state song.

---

April 15
2001: Aaron McGruder's "Boondocks" comic debuts & goes into National Syndication
1960: SNCC formed at Shaw Univ.

---

April 16
1869: E.D. Bassett minister to Haiti.
1862: Slavery abolished in D.C.


1980: The Republic of Zimbabwe ends its 90 year colonial rule.

---

April 17
1960: SNCC founded.
1758: Francis Williams published Latin poem.

---

April 18
1818: Blacks & Indians were defeated at the Battle of Sewanee.
1977: Alex Haley, author of "Roots", awarded Pultizer Prize.
2001: Death of Fred Jordan, Music/Talent Manager of MTV.

---

April 19
1775: Black & white minutemen fought at Lexington & Concord.

---

April 20
1866: Fisk University opens for students.
1853: Harriet Tubman starts the Underground Railroad

---

April 22
1970: Yale students protested in support of Black Panther Party.


1526: First Slave Revolt occurs in South Carolina.

---

April 23
1998: After accidentally rolling backwards during traffic stop, 3 Blacks & a Latino were shot on a Jersey Turnpike by troopers.
1913: National Urban League founded
1856: Birth of Inventor, Granville T. Woods.
April 24
1884: The Medico-Chirurgical Society, the oldest Black medical association in the U.S., is formed in D.C.
1950: First Black student attended Univ. of N.C.
1944: United Negro College Fund established

---

April 25
1941: Fair Employment Practices Comm. established
1945: United Nation founded.
1999: Roger Troutman of the Funk group Zapp dies.
2002: Lisa "Left Eye" Lopes of TLC dies from car accident in Honduras.

---

April 26
1886: Gertrude Pridgett "Ma" Rainey, Blues pioneer, is born.

---

April 27
1967: Muhammad Ali, world boxing champion, is stripped of his title for refusal to enter the armed forces.

---

April 29
1992: Riots erupted in Los Angeles and other cities after the verdict from the Rodney King Trial.
1845: Macon B. Allen and Robert Morris Jr, first Blacks to practice law, open practice.
1985: Col Frederick Gregory, first Black astronaut, piloted space shuttle Challenger.

---

April 30
1865: Freedmen's Bureau established


1828: Shaka Zulu, the great Zula King, is killed.